The Legislative Process and the Role of the Legislative Council Service
Raul Burciaga, Esq.
Director, Legislative Council Service
Thursday, October 12, 2023 - 10 am to noon
Room 322 State Capitol
Will be available on Zoom
Register for Zoom meeting: https://us02web.zoom.us/meeting/register/tZ0pd-6vqzwuHNJA43vA82BFH8fGuZ5UVHH0.
The New Mexico Legislative Council appointed Raul Burciaga as Director of the Legislative Council Service (LCS) in 2010. He has primary responsibility for the administration of the LCS, the nonpartisan bill drafting, and the legal research agency of the New Mexico Legislature. Raul joined LCS in 2000 and between 2004 and 2010 was Assistant Director for bill drafting services.
Raul is a member of the New Mexico Compilation Commission, which oversees the compilation and publishing of New Mexico laws. He is also a member of the national Uniform Law Commission, which recommends uniform laws for states to consider enacting.
LWVNM Statement on Republican Party of New Mexico v. Oliver
The August 15 article, "New Mexico congressional redistricting lawsuit moves forward", in The Paper implied that the League of Women Voters of New Mexico signed onto an amicus brief in support of the plaintiffs in Republican Party of New Mexico v. Oliver.
The League of Women Voters of New Mexico is a nonpartisan political organization, never supporting or opposing any political party. The League signed on to an amicus brief, a written argument submitted to the court, relating to the case of Republican Party of New Mexico v. Oliver. In addition, the signers include the Election Reformers Network, Common Cause NM and others.
The signers of the amicus brief do not have a position on the merits of the lawsuit. The amicus brief was filed to provide metrics and standards to determine if "egregious gerrymandering" took place. To decide whether the level of partisan gerrymandering is acceptable, the New Mexico Supreme Court directed the Fifth District Court to use a three-pronged test outlined by U.S. Supreme Court Justice Elena Kagan in her dissenting opinion in the 2019 Rucho v. Common Cause.
The importance of this cannot be overstated. If Justice Kagan's criteria are put into place, they could be used across the nation in any state where there is egregious partisan gerrymandering.
Read the full amicus brief here: Amicus Brief on Republican Party of NM v. Oliver.
Watch: Legislative Interim Committees: What are they and why they are important?
A Zoom video from June 21, 2023.
League experts discuss the The New Mexico Legislature's interim committees and how to follow them.
Links: go to nmlegis.gov and click on "Committees" or "What's Happening". Or view the Tentative 2023 Legislative Interim Committees PDF on the legislative website.
The 2023 Legislative Session
The legislative session ran from Jan 17 to March 18. See the Bills we tracked in 2023. For more details on our advocacy, see the Action page.
Watch: Effective Advocacy at the Legislature
January 7, 2023. Learn tips from legislators and an experienced lobbyist about how to interact with legislators, speak at hearings, and advocate for your cause. Special Focus on the Budget and Taxes.
A Guide to New Mexico's Tax System
A useful article from NM Voices for Children: A Guide to New Mexico's Tax System.
Learn how the state collects money, and why it matters.
New Mexico Listens video
Strengthening democracy through community conversations.
Glimpse some of the recent programs LWVNM offered with support from the NM Humanities Council and the National Endowment for the Humanities. For more information and to suggest future programs, please contact projects at lwvnm.org.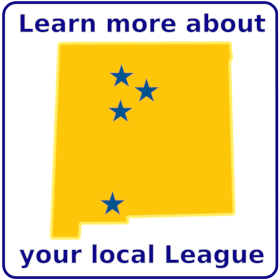 Join us!
LWVNM has four local Leagues:
You can join your local League (click on the links above), or join LWVNM as a Member at Large.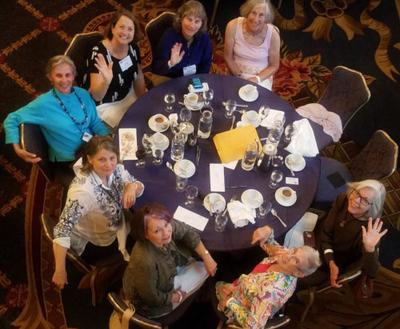 Current Activities
The Legislative Session that ended March 18 was very successful, with lots of good bills passed. Bills we tracked and advocated for in the 2022 session: 2023 Legislative Tracking Sheet. Our Action Committee monitors the legislature every year and advocates for bills on issues we've studied.
The League is leading the Fair Districts for New Mexico Project, promoting fair and transparent redistricting for New Mexico. Please visit the Fair Districts web site for updates. Or watch the 90 Second Video to Promote an Independent Redistricting Commission.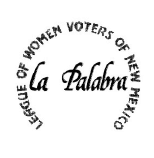 Latest La Palabra
The Summer 2023 La Palabra (PDF, 1.8Mb) newsletter is out.
Co-Presidents' Report; Redistricting Report; Making Democracy Work Award; Action Committee Report; Nuclear Issues Report; Legislative Modernization; Local League News.
Keep up to date by reading La Palabra!
For issues of La Palabra dating back to 2005, see the Newsletters page.
How to Contact Your Legislator
Want to connect with your legislator? See our page on Contact Info for New Mexico Legislators.
Want to reach NM's Congressional delegation? The Congressional toll-free number is 1-866-727-4894. Just ask for your representative or senator. Please remember that you are speaking as an individual and not for the League.