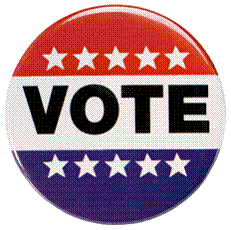 Voters' Guide to the 2014 General Election
This is the LWVNM state-wide Voters' Guide. This page covers general voting information. To see the candidate responses to questions, analysis of constitutional amendments, and bond issues, use the navigation links on the left side of the page, under the header "Index to Voters' Guide".
This Voters' Guide covers statewide offices, including Federal offices, and statewide issues. To find out about your local candidates and issues, check out your local League's websites (links are also in the left-side navigation bar).
General Election Nov 4
A General Election will be held on Tuesday, November 4, 2014. A General Election is held the first Tuesday after the first Monday in November in each even-numbered year. This General Election will fill the offices of United States Senator, United States Representative, Governor, Lieutenant Governor, Secretary of State, State Auditor, State Treasurer, Attorney General, Commissioner of Public Lands and districted New Mexico offices and county positions. There will be many judicial elections and judicial retention decisions, bond issues, and proposed amendments to the State Constitution.
If you are a citizen of the United States, 18 years of age or older on Election Day, and registered to vote, you may vote in this General Election.
Voting 101
The League has prepared a brief guide to voting in New Mexico. You can view or download it here (PDF, 100KB).
Important Dates to Remember
General Election
Date
Description
The General Election includes candidates at the federal, state, county and local levels. Anyone who is registered may vote, and you may vote for any candidates you choose, regardless of which party (if any) you are registered under.
October 7
Last Day to Register or Re-register to Vote. After this, voter registration will close until Nov 12
October 7
Absentee and absentee-in-person voting opens. Absentee ballots are available by mail by request - absentee ballots are no longer sent out automatically! Early in-person voting by absentee ballot opens.
Oct 18 - Nov 1
Early voting at alternative sites opens
October 31
Last day for County Clerks to mail out absentee ballots
November 1
Early and absentee voting ends
November 4
ELECTION DAY
Voter Registration
You must be registered by October 7 in order to vote in this election. If you have moved, changed your address, your name, or your party affiliation, you will need to re-register in order to vote. If you have not voted since 2008 and do not vote in this election, your name will be eligible for purging from the voter rolls in 2015.
You can check your registration status by contacting your local County Clerk's office and numerous other locations listed on www.sos.state.nm.us.
Who may vote in New Mexico? Voters must be U.S. citizens, must be at least eighteen on or before election day, and must reside in New Mexico. Application may be made in person or by mail, but note the identification requirements for applications made by mail.
Where do I register? You can register at your County Clerk's office, or pick up a voter registration form at any public library, Department of Motor Vehicles office, or public assistance office. Voter registration drives are conducted by organizations such as the League of Women Voters, the political parties, various advocacy groups, and by individuals who are trained voter registrars.
How Can I Tell if I'm Registered? You can call your County Clerk's office, or check online at the Secretary of State's Voter View web page.
Voter Identification For mail-in registration application, if the applicant is registering for the first time in New Mexico, the applicant must submit, together with his completed and signed application form, a copy of one of the following types of identification showing both the name and the NM address of the applicant:
a current and valid photo ID such as a driver's license (note that the DMV can issue similar IDs to non-drivers)
a utility bill
a bank statement
a government check, paycheck or other government document.
If the applicant has not submitted the required identification before the election, s/he may be required to do so when voting for the first time, whether in person or absentee.
Where can I get more information? Visit the website of the New Mexico Secretary of State. This page includes links to check the status of your provisional ballot, if one was required, as well as sample ballots for the 2014 Primary and General Elections. Voters may also look up their voter registration information using VoterView.
Verify your voter registration status.
Problems voting? Call one of these hotlines:
1-866-MYVOTE1
1-866-OUR-VOTE
1-888-VE-Y-VOTA (en Español)
or visit www.866OurVote.org.
Additional State Resources
NM State Bureau of Elections: 505-827-3600 or 800-477-3632 toll free
Secretary of State web page: sos.state.nm.us
Check your voter registration status and election info at voterview.state.nm.us
---
The League of Women Voters
The League of Women Voters is a non-partisan political organization encouraging the informed and active participation of citizens in government. As a nonpartisan organization, the League of Women Voters does not support, oppose, or make recommendations regarding any political party or candidate.
To help voters make informed choices, the League of Women Voters has collected some views on key issues from candidates for certain offices. This Voter Guide, published through the League's Education Fund, provides completely unedited candidate responses. Responses were not changed except to delete words in excess of the word limit allowed for each question. Proposed constitutional amendments and bond and tax issues are included and briefly described to help voters better understand the issues.

(To read the PDF files, you can download a free copy of Adobe Acrobat Reader:)