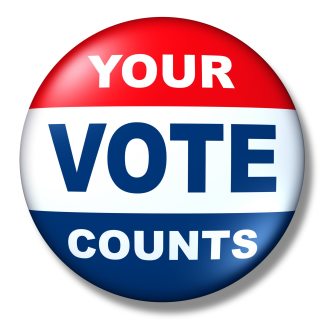 POLLING LOCATIONS
Find your nearest polling location at the Secretary of State's Polling Map.
Districts
Want to know what district you're in or who your legislators are? Our New Mexico Political Districs page has links to lots of maps and districting information.
VOTER REQUIREMENTS
The League has prepared a brief guide to voting in New Mexico: Voting 101.
You must be registered 28 days before an election in order to vote in it. If you have moved/changed your address, your name, or your party affiliation, be sure to re-register so that your information is accurate. If you did not vote between 2008 and 2014, your name may have been dropped from the voter rolls in 2015. You can check for your registration status, voting history, and information about which races you can vote for and your voting record through the VoterView website. Supply your first and last names and birth date. Do not enter your middle name or initial (though requested) as the system may not be able to find you.
You can register to vote at your local County Clerk's office, at the many other locations listed on http://www.sos.state.nm.us, or online at that same address: http://www.sos.state.nm.us.
If you've voted in New Mexico previously, you do not need to show any ID. You will be asked for your name, year of birth, and your registration address. Only first time voters who registered by mail and didn't submit allowable ID documents with their registration applications must produce a current "physical ID" to cast a ballot. The "physical ID" could include, but is not limited to, a driver's license, utility bill, bank statement, pay check or government check, student or tribal ID, voter ID, or other government document that shows your name and address. The physical ID does not need to include a current address or be a photo ID.
If you do not have the identification required of a new registrant with you at the polling place, you may still vote on a provisional ballot. If you are asked for a photo ID or feel that your right to vote is being challenged in any way, please contact the NM State Bureau of Elections (Office of Secretary of State) immediately at 1-800-477-3632 toll free.
If you experience or witness any voter intimidation or coercion, call the Count Every Vote NM hotline at 1-866-OUR-VOTE (1-866-687-8683) or Spanish Hotline 1-888-VE-Y-VOTA (1-888-839-8682). This nonpartisan voter protection program created by Common Cause New Mexico works with the Lawyers Committee's voter information hotline to answer questions or concerns on a timely basis.
For assistance in restoring former felon voting rights, see the New Mexico Voting Code.
ABSENTEE VOTING
A voter may request an absentee ballot application from the County Clerk in person, by phone, or by mail, for herself/himself or a relative. You do not need to supply any reason for voting absentee. APPLICATIONS for absentee ballots are available through the Friday prior to Election Day (the first Tuesday after the first Monday in November).

COMPLETED ABSENTEE BALLOTS must be delivered by mail or in person by the voter or a family member to the Clerk's Office or any polling place on Election Day by 7 pm. Each voter is only issued one ballot for an election, unless an error is made in marking that ballot. If you lose or destroy your absentee ballot and go to your polling place on Election Day, you will not receive another ballot. If it's Election Day, and you never received your requested absentee ballot, go to your polling place and complete an affidavit of nonreceipt of absentee ballot, and you will be permitted to vote on a replacement absentee paper ballot.

QUESTIONS? For more info, contact NM Secretary of State: 1-505-827-3600 or 1-800-477-3632 toll free, Monday through Friday, 8:00 am to 5:00 pm, or www.sos.state.nm.us.
VOTER GUIDES
The League of Women Voters promotes informed and active participation of citizens in government and produces non-partisan, comprehensive Voter Guides. The League of Women Voters does not support, oppose, or make recommendations regarding any political party or candidate. To help voters make informed choices, the League of Women Voters interviews candidates for most of the competitive races on key issues and prints their unedited responses. Summaries of proposed constitutional amendments and other ballot questions are also included in Voter Guides. Please go to www.lwvnm.org in early October for the links to the statewide and local Voter Guides for Central New Mexico, Greater Las Cruces, Los Alamos County, and Santa Fe County.

Our 2016 Voter Guide is here: 2016 League of Women Voters, NM Voter Guide.