LWVNM Positions, Bylaws Updated at the Convention
At the biennial Convention in Albuquerque in May, League of Women Voters of New Mexico delegates approved the updates to several positions and added new positions on Alcohol, Living Wage, and Natural Resources. The Education position was extensively revised. Please see the LWVNM Positions page for the new position statement. The bylaws also had some amendments.
In addition, a new study of charter school accountability was approved at the Convention: see the Charter School Regulations: Public School Funding, Accountability, and Transparency proposal for details.
Read more about what happened at the 2015 Convention.

Op-Ed: The Judiciary Deserves More Respect
How can we ensure that our state court system has the funds needed to serve the public? An op-ed by Meredith Machen, LWVNM President: The Judiciary Deserves More Respect.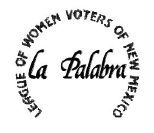 Latest La Palabra
The Spring 2015 issue (PDF, 1.1 MB) covers convention information and registration form; nominating committee report; budget report; update on MLD, Membership and Leadership Development; 2015 legislative session wrap up; technology report; new LWVNM positions on alcohol, children and families, education, living wage, environmental justice, land use, transportation, agriculture, air quality, waste management, climate change, energy and mining, water quality, and state finance; proposed changes to bylaws, and more. Keep up to date by reading La Palabra!
For issues of La Palabra dating back to 2005, see the Newsletters page.
Action Page updated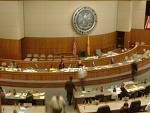 The Legislative Action page has the final tracking sheet of bills that League followed during the 2015 session. This list is downloadable and contains links to each of the bills on the Legislative website.
Other useful information on the Action page: notes and video from the December 2014 Lobbying Workshop, links to help you contact legislators, and MORE!

League Day at the Legislature
Feb 10, Tuesday, was League Day at the Legislature. From 10:30am to noon in Santa Fe, members and guests enjoyed meeting with other League members, talking to their elected representatives, and listening to presentations by
View Dr. Gabriel Sanchez's Presentation
Dr. Sanchez summarized his findings about the effects photo ID laws would have in voting in Texas, and extrapolated the effects that would be likely to occur in New Mexico, a state with many similarities to Texas, as well as other information about systematic efforts at voter disenfranchisement. You can view his presentation and data
Dr. Gabriel Sanchez is an Associate Professor of Political Science at the University of New Mexico and Director of Research for Latino Decisions.
---
If you missed the League's Legislative Reception on Feb. 9, you missed a very important panel discussion on Education Funding and Other Issues, chaired by League President Meredith Machen. To understand some of the factors affecting the low academic achievement of most New Mexico students, please see the data report that Dr. Veronica Garcia distributed as part of her talk at this link.
The League is advocating for more funding in order to address the learning needs of at-risk and low-income students. New monies should be allocated "above the line" according to the State Equalization Guarantee (SEG). "Below the line" discretionary funding for merit pay and special reform initiatives runs counter to the intent of the SEG formula. Supplemental funding is also needed for curriculum and teacher training in order to implement the Common Core and assist students who are not proficient in reading and math.
Sign the New Mexico Pledge
Common Cause New Mexico and the Foundation for Open Government have launched a campaign to illustrate the broad public support for policies that will address the harmful impact of money in politics and increase transparency. These are both major priorities of the League of Women Voters and we urge you to sign the pledge at:
Take the Pledge!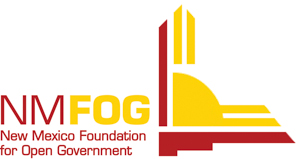 Call Congress!
The Congressional switchboard number is 1-866-727-4894. All you need to do is call toll free and ask for your Congressman or Senator.
About the League of Women Voters
The League of Women Voters, a nonpartisan political organization, encourages the informed and active participation of citizens in government, works to increase understanding of major public policy issues, and influences public policy through education and advocacy.
The League of Women Voters is strictly nonpartisan; it neither supports nor opposes candidates for office at any level of government. At the same time, the League is wholeheartedly political - working to influence policy through education and advocacy. It is the original grassroots citizen network, directed by the consensus of its members across the country.
Membership is open to all citizens of the United States, both women and men, who are 18 years or older. In New Mexico, there are four local leagues. All local members are automatically members of LWVNM as well as the national League of Women Voters of the United States (LWVUS). New Mexicans who do not live near any of the existing local leagues may join LWVNM as a member at large.
Find out more about us and check our calendar for upcoming events.