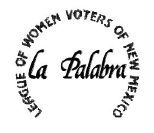 Latest La Palabra
The Fall 2015 issue (PDF, 700 KB) is out. Includes articles on: PNM-PRC-San Juan Generating Station; independant ethics commission; help wanted: Treasurer; Money in Politics (MIP) study; health policy; League Day/Legislative Reception. Keep up to date by reading La Palabra!
For issues of La Palabra dating back to 2005, see the Newsletters page.
Are you registered to vote?
In 2015, New Mexico purged over 100,000 voters from the voter lists. To find out if you are registered in New Mexico and where to vote, check the Secretary of State's Registrant Search.
How to Contact Your Legislator
Want to connect with your legislator? We have Contact Info for all NM legislators.
Or you can call Congress directly. The Congressional switchboard number is 1-866-727-4894. All you need to do is call toll free and ask for your Congressman or Senator.
---
About the League of Women Voters
The League of Women Voters, a nonpartisan political organization, encourages the informed and active participation of citizens in government, works to increase understanding of major public policy issues, and influences public policy through education and advocacy.
The League of Women Voters is strictly nonpartisan; it neither supports nor opposes candidates for office at any level of government. At the same time, the League is wholeheartedly political - working to influence policy through education and advocacy. It is the original grassroots citizen network, directed by the consensus of its members across the country.
Membership is open to all citizens of the United States, both women and men, who are 18 years or older. In New Mexico, there are four local leagues. All local members are automatically members of LWVNM as well as the national League of Women Voters of the United States (LWVUS). New Mexicans who do not live near any of the existing local leagues may join LWVNM as a member at large.
Find out more about us and check our calendar for upcoming events.